USModernist Goes to New York!
Wednesday-Sunday, November 6-10
...but we do have a waiting list!
Please email george@usmodernist.org with:

your name; the name and date of the event;
time preferences, if applicable; your phone number;
the names and emails of everyone in your party
What can we say? It's fabulous New York City, and this fall USModernist dives deep into New York's Modernist architecture!
You'll fly direct from RDU. You'll stay at exciting hotels, including the brand new TWA hotel at JFK!
You'll get event admissions, exclusive tours, a dinner/reception/party nearly every night, an unlimited two-day NYC bus and subway transit pass, a free year membership/renewal in the Mod Squad ($125 value), and much more!
Wow, that's incredible! Indeed. People love discovering Modernist architeture traveling with USModernist. We've been to Chicago, LA, Fallingwater, Palm Springs, Phoenix, London, Brussels, Copenhagen, Oslo, Berlin, Zurich, Washington, and all around North Carolina - 100 tours over 10 years.
---
SCHEDULE of DELIGHTFUL EVENTS
On Wednesday morning, we fly direct from RDU to New York JFK...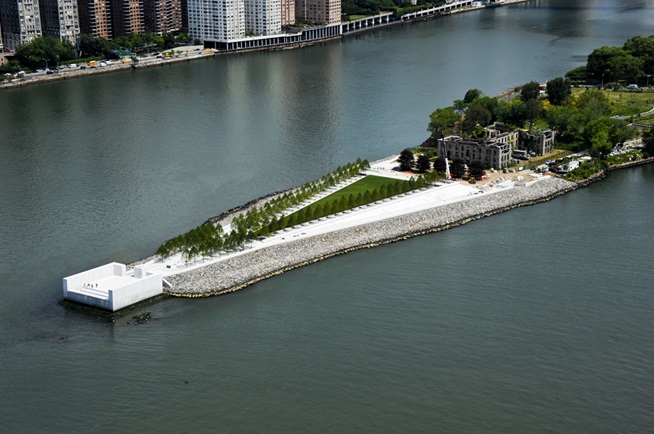 ...then we travel into Manhattan to hop on an iconic tram for a beautiful view of the East River, followed by a walking lunch to the FDR Memorial on Roosevelt Island, designed by Louis Kahn. Then it's off to tour...

...the incredible United Nations Building, designed by a team led by Wallace K. Harrison.

That night, after checking into our cool hotel, the Distrikt, a welcome tapas dinner nearby with sangria!


The next day, a guided tour down the famous High Line, including seeing the Standard Hotel and the new Zaha Hadid building, ending in...



...the Met Breuer Museum of Modern and Contemporary Art, where you'll have lunch and a tour.



You will visit the Oculus, designed by Santiago Calatrava, plus a walk around the World Trade Center Memorials.



St. Peter's Church, designed by Hugh Stubbins, located underneath a larger building.



The Museum of Arts and Design



The Museum of Modern Art (MOMA)



The Guggenheim, designed by Frank Lloyd Wright, with an addiiton by Gwathmey Siegel.



We visit the Richard Meier Archives, a private warehouse of architectural models from his lifetime of projects.



Not to be missed: a wonderful tour and cocktail party at the Modulightor Building, designed by Paul Rudolph, with officials from the Paul Rudolph Heritage Foundation.



We finish our adventure with the New York Architecture Boat Tour and...



...the New York 1939 and 1964 World's Fair site, aka the Men In Black Towers, in Queens, including the Queens Museum.
Your last night is at the fabulous new TWA Hotel attached to the incredible TWA Terminal designed by Eero Saarinen. After checking in, explore the building, then it's happy hour on the rooftop pool! In case of rain, we'll be sipping martinis in this gorgeous lobby, above.




We leave early in the morning Sunday through the iconic TWA travel tube into the adjacent JetBlue terminal.
---
Tickets and Details
Almost everything's included: roundtrip JetBlue direct flight RDU-JFK and all airport transfers; hotels; two-day NYC metro and bus pass so you can explore New York; all scheduled tours and admissions; dinners or parties or receptions nearly every night; some breakfasts and lunches.
$2399 per person General Public, double occupancy
$2999 per person General Public, single occupancy
$2299 per person Mod Squad, double occupancy
$2899 per person Mod Squad, single occupancy
If you wish to fly from another city, please register then send an email with flight info to george@usmodernist.org. You'll receive a $150 per person rebate within a week and are responsible for matching your arrival and departure with ours.
Proceeds benefit USModernist's ongoing nonprofit documentation, preservation, and promotion projects.
---
The Fine Print:
Once payment is made, there are no refunds for any reason except for if the tour is cancelled. However, you can sell or give your place to another person with at least two weeks written notice to USModernist.
Typically, each morning involves architecture tours until about 1pm or 2pm; the afternoons are free; and an evening event starting about 5pm.
The itinerary and order of events are subject to change without notice or refund.
No checked luggage; one carryon and one personal item only per person.
USModernist's Tour Director Angela Roehl and George Smart will be on the trip.
Participants must complete a liability release before departing as is standard with all USModernist trips.
There is NO SMOKING of any kind at the hotels, inside or within 25 feet outside.
Parking at RDU airport is not included.
Architects can get self-reported CEU hours if arranged in advance with the AIA.
There is a small but possible risk of overnight stay if flights are cancelled or delayed, in which case participants are responsible for any additional costs of meals, lodging, transportation, and incidental expenses. With over 100 tours, this has never happened, but it could.
Questions? Contact USModernist Executive Director George Smart at 919.740.8407 orgeorge@usmodernist.org.